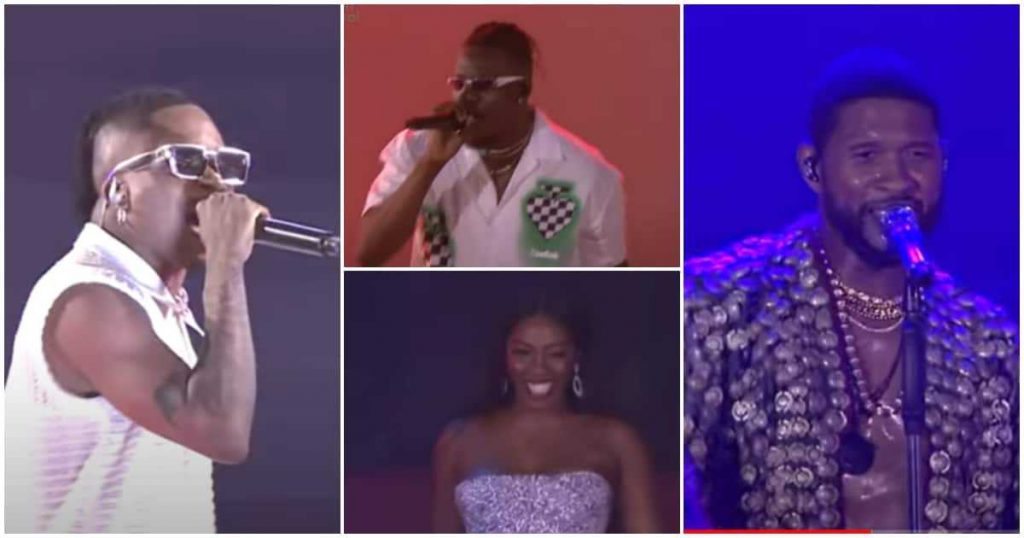 Some provoked Ghanaians, including rapper Criss Waddle, took out their frustrations on social media, as American R&B singer, Usher, was sighted introducing three Nigerian artists on stage to perform during the Global Citizen Festival 2022, at the Black Star Square.
Some deeply rooted Ghanaian fans, as well as live partakers of the Global Citizen Festival 2022, including outgoing Ghanaian rapper Criss Waddle, trooped on social media, to heavily put forward their dismay and bitter reservations, concerning the obvious lack of respect and courteousness, engulfed on Ghanaian artists, as lead R&B singer, Usher, introduced on stage, three Nigerian artists, to claim front row attention.
Various attendees at the event, were blessed to enjoy lovely streams of hits and bangers, from Ghanaian, Nigerian, and American artists, some of whom comprised of Sarkodie, Stonebwoy, Stormzy, Yaw Yog, Kwesi Arthur, SZN, Usher, Pheelz, and Tiwa Savage.
Interestingly, the main fuss observed at the show's climax, happened to be Usher's deliberate act of purposefully introducing three Nigerian musicians, namely, Tiwa Savage, Oxlade, and Pheelz, to perform with him during the event.
Past that, the R&B star, took to online web portals, to share photographs from the Global Citizen Festival show, emphasizing his thanks to Ghana, not to mention, the pleasure he had, performing with Tiwa Savage, Oxlade and Pheelz.
This unexpected occurrence, incited a streak of discontment, on the Ghanaian scene of social media, as majority of music lovers, agree Ghanaian artists merit the limelight more, rather than what unfurled, under Usher's headlining performance.
SOURCE: www.ghnewslive.com