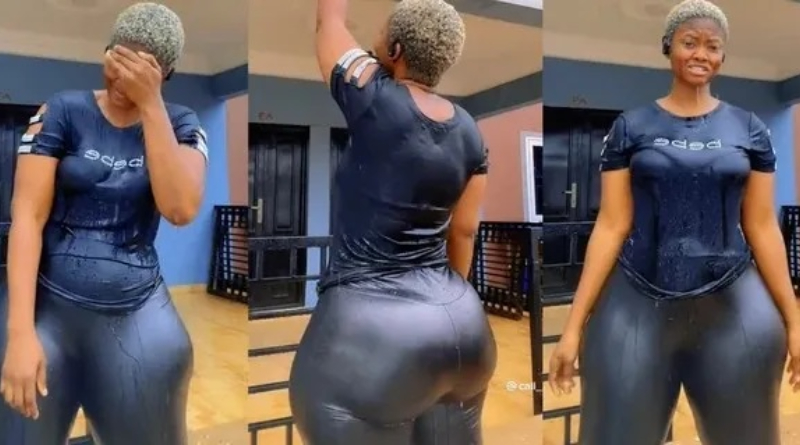 Ghanaian socialite, Sheena Gakpe has taken over social media with her own remake of Black Sherif's Kwaku The Traveller performance.
Ghanaian musician and performer, Black Sherif's 'Kwaku The Traveller' song has sparked a challenge on social media which is courting wild attention.
A Nigerian TikToker birthed the challenge on the video-sharing app after she mimicked Black Sherif's art of performing in the rain at the just ended 3 Music Awards. The video has gone viral with over 2.8 million views within two days.
Other TikTokers have since been hopping on the trend and one curvaceous Ghanaian lady, identified as Sheena Gakpe, has taken it to another level.
In a new video sighted on the official Instagram page of the socialite, Sheena Gakpe was seen standing in front of a beautiful edifice.
She was seen wearing a black t-shirt over a pair of bodycon black trousers as she plugged some wireless earbuds into her ears.
She was seen singing portions of Kwaku The Traveller song as water poured onto her head from the first floor of the house she was standing in.
The water was however pouring with so much force that it ended up distracting the actress as she started laughing and even forgot her lines.
At a point, she could not take it anymore and turned to ask the person pouring the water on her why he or she was trying to 'spoil her shine'.
In less than 24 hours, the post captioned "who sent me ? Huh , I'm feeling cold," has gathered over 2800 retweets and over 1000 comments
myinfo.com.gh