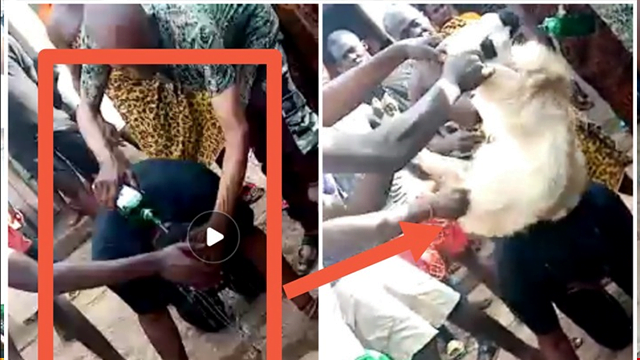 Chiefs and elders of the Nkoranza Traditional Council this morning have charged a young gay man to pacify the gods of the land for indulging in homosexuality.
Gay Man Caught: The Omanhemaa of Nkoranza Traditional Council Nana Adutwumwaa Dudaa Kanii says homosexuality is an abomination on their land and as such, any person who is caught practicing it would have to be charged to perform some rites and purge the community of the wrath of the gods.
Yaw Owusu, a young man in his late twenties was arrested by the youth of Nkoranza while having a sexual affair with another male. He was taken to the local police for arrest and prosecution but the station officer turned them away, Baffour Sarkodie a local reporter said. According to him, the only option the youth had was to report the incident to the traditional council for the necessary sanctions to be effected.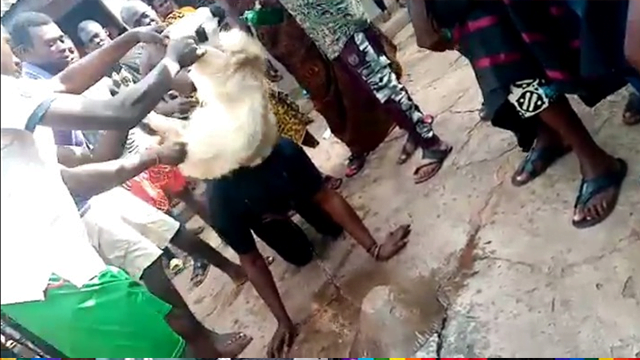 The gay man confessed to the Queen mother that he has been indulging in the act for years now. The elders were surprised to learn that gay acts had taken root in their township.
The elders together with the Omanhemaa poured some libation to appease the gods. Yaw Owusu was caused to knell before the traditional authorities and some incantations were recited while an entire bottle of schnapps was poured over his head.
Nana Adutwumwaa Dudaa Kanii in consultation with the elders charged Yaw Owusu to commit twenty-four (24) white sheep and a box of schnapps for a ritual to be performed to pacify the gods for his sinful and immoral act. He has been given a week to honor this obligation else suffer the wrath of the gods.
The traditional council used the opportunity to warn the entire community particularly the youth who have been indulging in this act to be wary of the gods and the traditional council. They said that it's abominable for anyone to indulge in same-sex intimate relationships adding that anyone who does that is already cursed by the gods.
The youth have also promised to flush out any person suspected to be part of the gay community. In the meantime, the police have been questioned about their inaction in pursuing the case when it was earlier reported to them by the youth.
Read Also>>> Ghanaian man, German husband hitched in an exclusive gay marriage