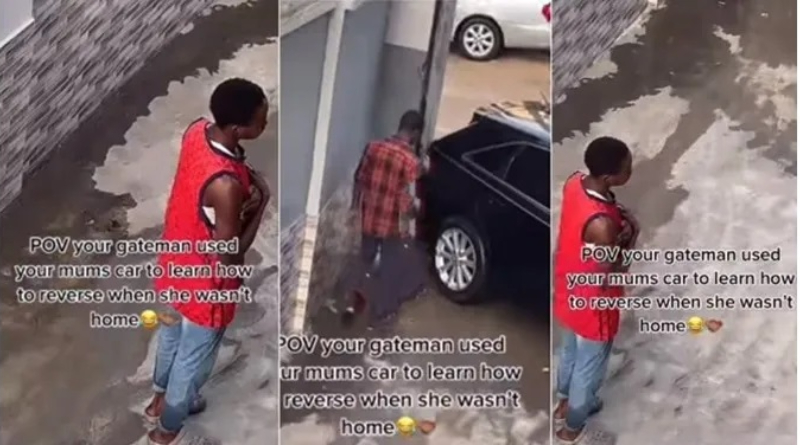 Gateman crashes Madam's car, and found himself in big trouble. He presumably did it to impress the local girls.
Gateman crashes Madam's car while trying to learn how to leave the complex in reverse, according to the narrative of a video that has appropriately been spread, and other individuals who wanted to make fun of him recorded the entire incident.
READ ALSO: Moment Brand New Expensive Benz Car Went Up in Flames
The gateman used the chance to test drive the whip as he waited for his madam to leave the property, but it went tragically wrong, as can be inferred from the background sounds in the video.
The gate nearly came off when he struck the back bumper. Someone could be seen examining the damage to the car in a video that the woman's child took and put online.
The gateman observed quietly as someone he assumed to be a family member evaluated the level from a distance.
"POV: Your gateman used your mum's car to learn how to reverse when she wasn't home", the caption of the video reads.
The video as expected elicited reactions from internet folks and they came out to share their opinion about it.
clear_stretch_; He don loose his job and he will pay for damages with all his past month's salary.
iamyetundebakare; Na so his salary go reverse
big_ray001; This feeling ni**a is traumatized
fashion_magicblog; When you drop key with them story must enter
goldenson6345; Na to just Dey work without salary
fashion_magicblog; If you want to learn how to combine outfit follow us for fashion inspiration
heisixlord; He don sabi reverse now? Make e dey reserve dey go village
nohpheesat; Somebody please play me no go dey do pass your self by kizz Daniel
classic._xchange; The guy wan be superstar
tour_lanny; Sheyb he dey collect salary?
princessprice2; Is this playing
prettygifttyy; Kindly apply for gate man work for 5yrs.
SOURCE: www.ghnewslive.com