Flowking Stone Opposes Patapaa Critics
Ghanaian based contemporary rapper and lyricist, Flowking Stone, has expressed that something stands out about Patapaa that makes him produce hit melodies, hence making him disagree with individuals who state that he has no musical ability.
The Kumasi-based rapper, who is as of now residing in the United States, said that for an artist to remain consistent with being relevant in the industry, thereby releasing hits after hits, is no common feat for an average musician.
He admitted that it takes a rare talent to craft instant songs that have the potential of becoming mega bangers. The rapper said the fact that Patapaa has managed to stay afloat in the music scene, whiles having the flair for releasing songs that have the ability to become major hits inside the space of minutes, shows there's a component of ability implanted in his melodic persona.
He made this assertion objectively clear during an interview on Joy Prime with KMJ. He voiced his viewpoint saying;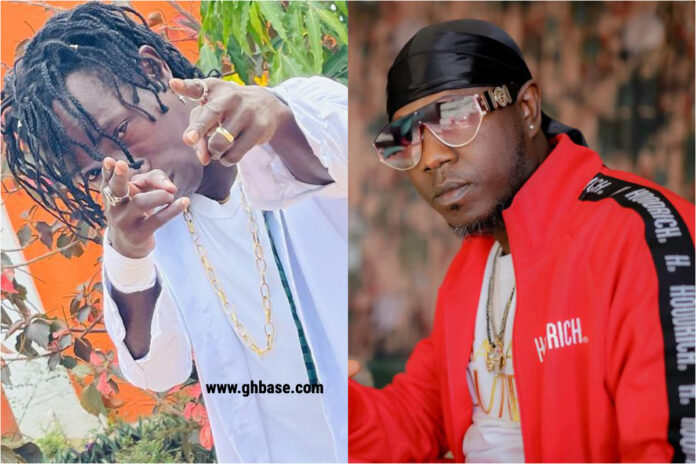 "People, for instance, say that Patapaa doesn't have a talent and all that; no [that isn't true]. Before a song can blow to that level, it means he has some type of talent. It could be marketing, it could be knowing how to make a hit song [and] that's a talent."
"Yes, because if his song went that far, then he knows something, it just didn't happen that he blew. So, there is a talent somewhere," he added.
Conceived Kwaku Nsia Boama, Flowking Stone said that artists needed to help each other and perceive the worth that every single one of them brings to the improvement of the music industry.
"… the fact that I feel I put a lot of depth to my lyricism, I can't look down on him, no. He also has something that comes from a different angle," he kindly admitted.
"Maybe when they play my song, people will dance a ceetain way but maybe when they play his song, it will hype the party a certain way. We need all that," the rapper honestly stated.
SOURCE: Ghnewslive.com