Prevalently outspoken famale comedienne, Afia Schwarzenegger, has taken a firm stand in favor of dancehall artiste, Stonebwoy, over his recent remark concerning the Ghana Football Association (GFA) being one-sided about the selection of players for the 2022 Qatar World Cup.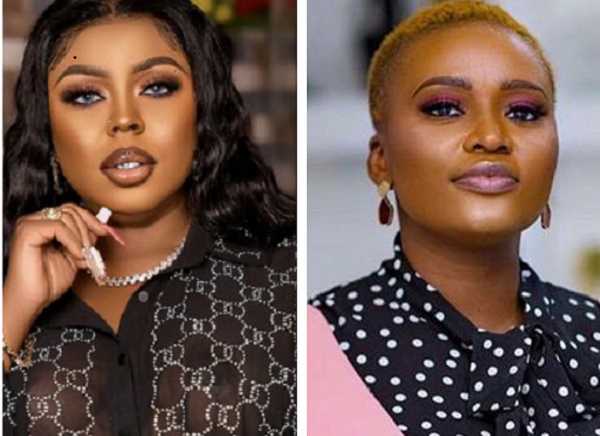 A couple of days prior when the coach of the Black Stars, Otoo Addo released the final list of players for the World Cup, Stonebwoy took to his Twitter account to respond to the situation at hand, with regards to the players selected, expressing that the decision making process during the selection phase was made as a factor of preferential taste, and also based on players who paid sums of money to gain a spot on the team.
Responding to the remark of Stonebwoy during a talking point on United Showbiz, MzGee described the remark of Stonebwoy as maligning.
Sharing her opinion on Stonebwoy's act of outburst, she said, "When I saw the tweet, my heart skipped because Stonebwoy isn't a small brand. What he wrote wasn't only spotted by Ghanaians. People all over the world saw it. Even if these accusations are true, can't we talk about it at home and not make noise about it? Now you have exposed our GFA to the entire world. FIFA is watching. You have exposed us to a bigger community. There is no proof to what he is saying."
Afia Schwarzenegger who didn't find the remark of MzGee relevant, saw it appropriate to involve herself into the discussion, as she grilled MzGee, whiles asking her to shut up in the process.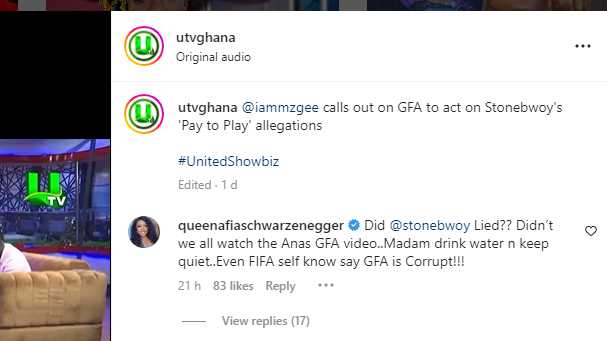 Sternly admonishing MzGee after her comment directed towards Stonebwoy, Afia Schwarzenegger said, "Did @stonebwoy Lied?? Didn't we all watch the Anas GFA video…Madam drink water n keep quiet… Even FIFA self know say GFA is Corrupt!!!"