DKB has communicated his disappointing observations in relation to Sarkodie's insincerity and hypocritical demeanor concerning how he has remained mute over Nana Addo's distasteful inability to steer the wheel of the country's economic affairs.
Sarkodie who was exceptionally loud and assertive during John Mahama's period of governance, is currently toothless and unwilling to lament, despite how things have exceedingly exacerbated on the economic front, under Nana Addo's administration.
During John Mahama's experience as the president of the republic, Sarkodie took it upon himself to record a series of aggressive songs to make the NDC government look bad and untrustworthy in the eyes of all Ghanaians.
The now shady artiste, previously released songs like 'The Economy', 'Inflation', and 'Dumsor', all in efforts to vehemently discredit the reputation and credibility of the then ruling party, National Democratic Congress (NDC), in order to address the financial difficulties at that time.
In the event of how he used to scrutinize John Mahama constantly over his inadequacy, numerous Ghanaians were anticipating that he would do the exact same thing to Nana Addo, however, the rapper has tragically done nothing, as a result of his dubious nature, and personal affiliations to the current government in power.
Taking to Twitter page to emphatically express his dismay over Sarkodie's arrant silence, DKB shared a brief portion of Sarkodie's 'Happy' tune, where he was lauding Nana Addo.
As stated by DKB, should this have been John Mahama's term of office, Sarkodie would have released more than 200 tracks to address the country's rotten financial condition.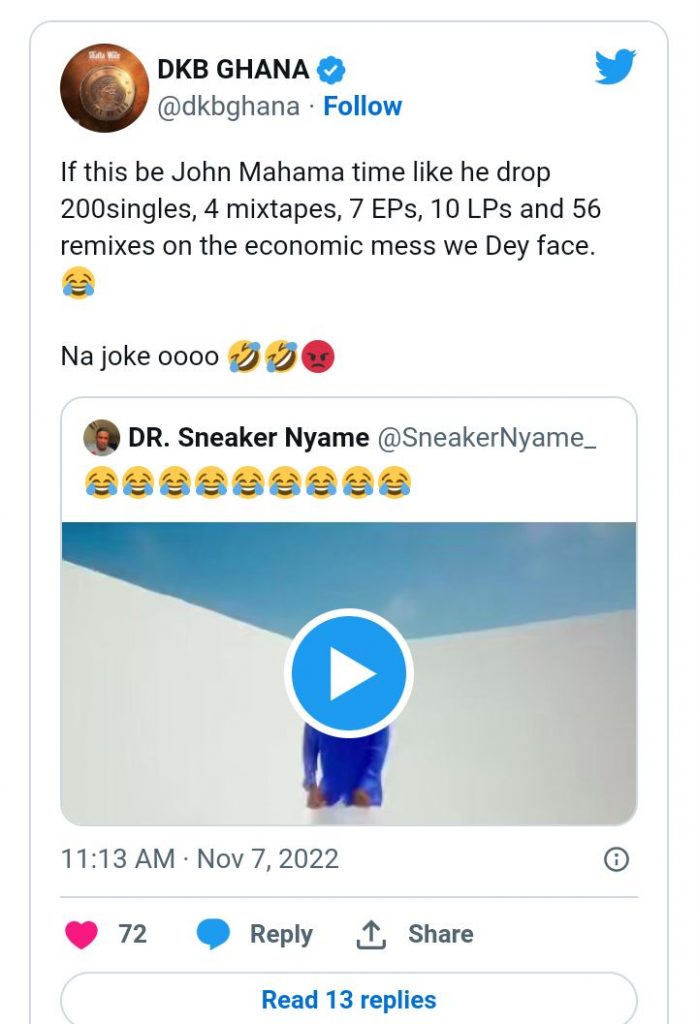 In his own words, he said, "If this be John Mahama time like he drop 200singles, 4 mixtapes, 7 EPs, 10 LPs and 56 remixes on the economic mess we Dey face. Na joke oooo."