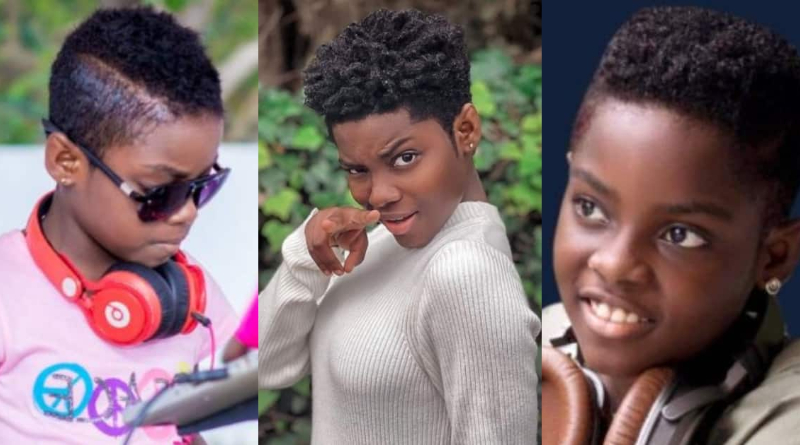 In a recent video, Dj Switch, the season 8 winner of TV 3's Talented Kidz competition was heard speaking with a foreign accent.
Dj Switch, the young girl who has developed swiftly since arriving in the United States, has a distinctive afro haircut that she kept unkempt, but it still looks cute.
READ ALSO: Abena Korkor Flaunts Her Neatly Shaved Raw TONGA In Latest Post – PHOTO
People were amazed by her quick development and American accent, and they responded to the video with amusing comments and gushing praise for her beauty.
When Eric Armah Bra Bulu Tandoh, also known as DJ Switch, won the 2017 season of TV3's Talented Kidz, she captured the hearts of Ghanaians.
Since arriving in the country, the young woman has rapidly matured.
The young girl with whom Ghanaians fell in love has grown up.
Her eloquence and assurance have increased even more as a result of the provocative remarks she made in a recent social media video. The gifted Disc Jockey spoke in a charming foreign accent about how devastating losing a loved one is.
Switch stated she had just realized how natural it is to feel "6 feet deep" when someone passes away, but one starts to realize exactly how deep it really is when you lose someone you care really about.
The young lady is 14 years old, but she already seems to have an in-depth understanding of life. The video excited fans as they marveled at how the adorable Dj had grown. Some reacted to her foreign accent. Whiles others expressed surprise at her fast growth.
Fans Gush Over Dj Switch's Growth And Accent
teenns_arena said: She's growing beautifully ❤️
desneakertherapist_ reacted: I love the way she's growing… so refreshing to see her ❤️❤️❤️❤️❤️
her_thrifthub also wrote: It's the "altitude" for me,it's the altitude for me
abenaa.joyce reacted to her accent: Ad3n she just returned from Atlanta anaa. Eee y33bl3 ooo
Source: www.ghnewslive.com