Fanatics of Nigerian music star Wizkid, are fuming with outrage after he neglected to show up in front of a crowd to perform songs from his classic collection to thrill them during his promoted concert in Ghana.
The much-promoted Wizkid Live Show in Accra came to a disappointing conclusion after patrons waited for hours trusting that the main superstar from Nigeria will come and give them the most captivating show possible, yet he was mysteriously absent at the event.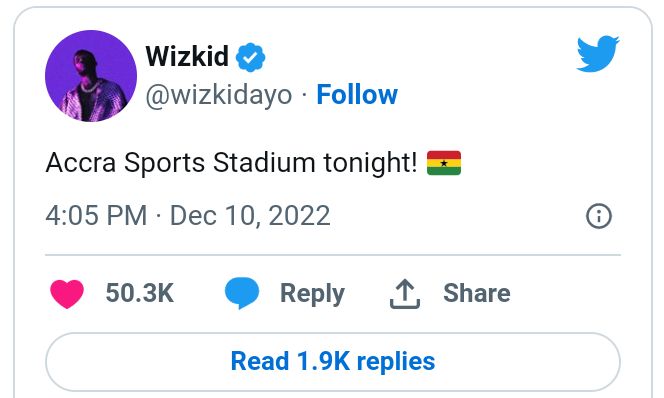 Various attendees and bloggers who went to the concert reported that the DJ and MC for the occasion were handed over the task of keeping the crowd entertained for more than two hours after local stars like Yaw Tog stepped on stage to deliver his performance.
Regardless of the overwhelming delay, Wizkid and the other headline musicians neglected to make an appearance at the concert. Different sources online indicate that many individuals who bought the tickets are insisting that the musician refund their money back to them.
It has been allegedly suggested that Wizkid, though unverified, backed down from performing at the event when he came to the realization that ticket patronage was extremely low, and he couldn't fill even 50% of the stadium.
The show was coordinated by the Finali Entertainment Group, the parent company of Live Hub Entertainment.
Anyhow, distinguished Ghanaian artistes who were supposed back Wizkid for a successful show consist of R2Bees, King Promise, Eugy, Efya, Darko Vibes, Kelvyn Boy, Gyakie, Yaw Tog, Asaaka Boy, to mention a few.