Ghanaian star-studded artiste, Black Sherif, and Nigerian megastar, Burna Boy, have refreshed their fondness for each other, in London ahead of his Blacko's show at "KOKO," today.
In a post that was shared on the web, the two performers who consider themselves brothers looked fashionable and on-point as they stood together to take pictures.
The internationally acclaimed musician has not concealed his affection, backing, and wild esteem for the quick rising artiste since his career took an epic turn a couple of years prior.
One can't discuss the glorious progress of Black Sherif without properly acknowledging Burna Boy, so it shocks no one when he makes an appearance to support Blacko on his first debut concert.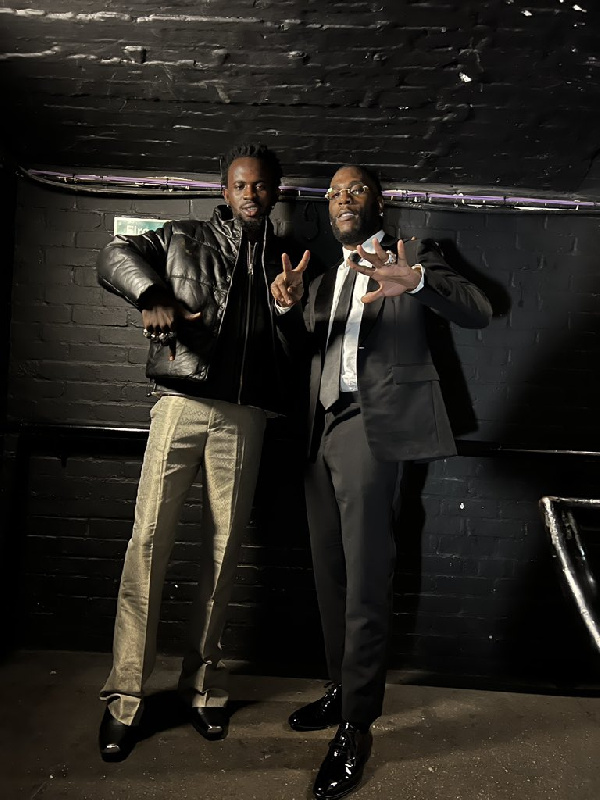 In the course of time, Black Sherif is set to perform today, November 18, 2022, at KOKO in London, following the artiste's forward leap in the music scene.
The show is Black Sherif's first time show Performance in London.
Black Sherif's fire has been kept ablaze since the release of his "First Sermon" freestyle in May, of a year ago.
All through 2022, he has far been distinguished with a noticeable number of awards including 'Breakthrough Act Of The Year' at the 3Music Awards.
The show will highlight exceptional guests such as the famous DJ Semtex and Narx, while the rest of the time will be focused mainly on himself and the fans dancing to all his hit tunes on his debut album 'The Villain I Never Was'.