David O. Oyedepo, the founder and presiding Bishop of the megachurch Faith Tabernacle in Ota, Ogun State, and, also known as Winners' Chapel International has allegedly sacked about 40 of his pastors who were unable to raise a level of income.

Most people began to believe that Bishop Oyedepo of Nigeria has sacked about 40 of his pastors after a pastor at Winners Chapel cried for being a victim.
Popular pastor sentenced to life imprisonment for raping a 17- year-old girl.

Pastor Peter Godwin seems to be sacked for not generating enough money in his branch.
According to the pastor, he was invited by the state pastor surprisingly he was sacked over low income in his branch with other pastors who were about 40 in number
The pastor narrated what transpired
"Actually, by the special Grace of God, our father in this great assembly, Living Faith Church received a mandate from the Lord to plant 10,000 churches in Nigeria and by the special grace of God, I was privileged to be one of the pastors that were employed on the 28th August 2020, that was last year.
"So after that, I started working, engaging myself in the work of the Lord. I tried my possible best to make sure I win souls for Christ but unfortunately, on the 1st of July, I received a call that the state pastor wants to see me, so I thought I was the only one. I was surprised, so I went to his office………When I got there, I saw other pastors too, over 40 of them, so I joined them. A few minutes later, we were issued a letter. I opened the content of the letter to see what was there and I saw that it was a sack letter."
The letter reads,
"Consequent upon the recent performance review which revealed that your church growth index falls below expectation. Please be informed that your service as the pastor in charge is no longer required in this commission with immediate effect. You are to vacate your official accommodation and hand over all properties including the official ID card to the area pastor before departure.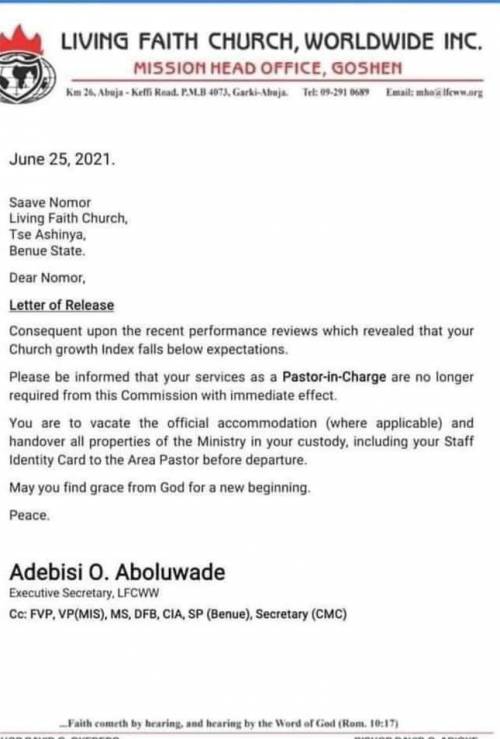 He also shared his actions after receiving the letter.
"So I called the management the next day to know what happened since I wasn't involved in any dubious activity or evil act. I was told by the management was that the church doesn't operate at a loss, they also told me the total income that is being generated from my station should be able to cater for my welfare and accommodation, so as a result of low income, I'm hereby dismissed."
Watch video
Read Also>>> IS RELIGION HELPING OR DESTROYING OUR MORALS – SEE DETAILS
Over the years this nation has been acclaimed as a Christian nation due to the influx of many churches is our communities. This has purportedly given a good impression about Ghana to our neighboring countries and even Europe. But I beg to differ
2020 Tokyo Olympics: A Ugandan weightlifter runs away from camp in Japan to seek a better life
In my view it's has rather made us corrupt,more wicked,more deviant in moral behavior amongst others.
Due to religion,Ghana has more fake pastors and malams in the entire world than any other country. We are a Christian country yet sakawa is increasing,crime rate is increasing,ritual murder is increasing, suicide is increasing,drug addiction is increasing instead of it decreasing if we were to be truly serving the almighty God.
Major achievements Muammar Gaddafi made to Libya
IS RELIGION HELPING OR DESTROYING OUR MORALS
It's only in Ghana that a so called prophet had lied using the name of God to prophecy on a football match results only for it to be the other way round and yet people troop to these fake pastors church. Excuse me to say are we dumb for want of a better word.
It's only in Ghana that Obinim after all the nonsense he is still having a church and Ghanaians are naively patronizing. WHAT IS WRONG WITH US AS A PEOPLE
Its only in Ghana that a self styled fake money doubler who had duped many innocent people got caught up by the law and delt with and after confessing to his/her crime now he/she is running a church,isn't it laughable? He/she has form another way to scam people yet we had the useless media giving hype to such a character.
See How Nigerian Gospel Artiste Mercy Chinwo Became A Household Name
No wonder kids a murdering their own for money ritual.
Is religion helping this nation. Citizens are lazing about in churches and shrines in search of prosperity rather than working.
Are our so called pastors really teaching the correct morals to the citizens. Now people steal and give it as offering to their corrupt religious groups. Does this not amount to blasphemy?
When will we all wake up from our slumber? Religion is not helping the nation.
Am waiting for a government that will close most of these fake religious organizations be it churches or fake shrines.
The are more churches in Ghana than employment companies
As the Rwanda president said and I quote " we need citizens who will help our country grow rather than citizen who waste their time in productive hours lazing about in churches"
All fake pastors churches must be closed down with immediate effect before they are rather doing more harm than Good to the innocent people of Ghana
It's only in Ghana that CITIZENS go to fake pastors for VISAS
No wonder women are seen more in these fake churches. Galant Ghanaian women must wake up,you people have been fooled for long.
NOW HAS RELIGION HELPED US?
by SEB) ZENITH DE UNIFIER