There are beautiful female Celebrities who died painfully during their career.
I am sure you probably shed some tears after hearing the departure of any of these female celebrities who died when they were about to enjoy the peak of their careers.
Bridget Shiel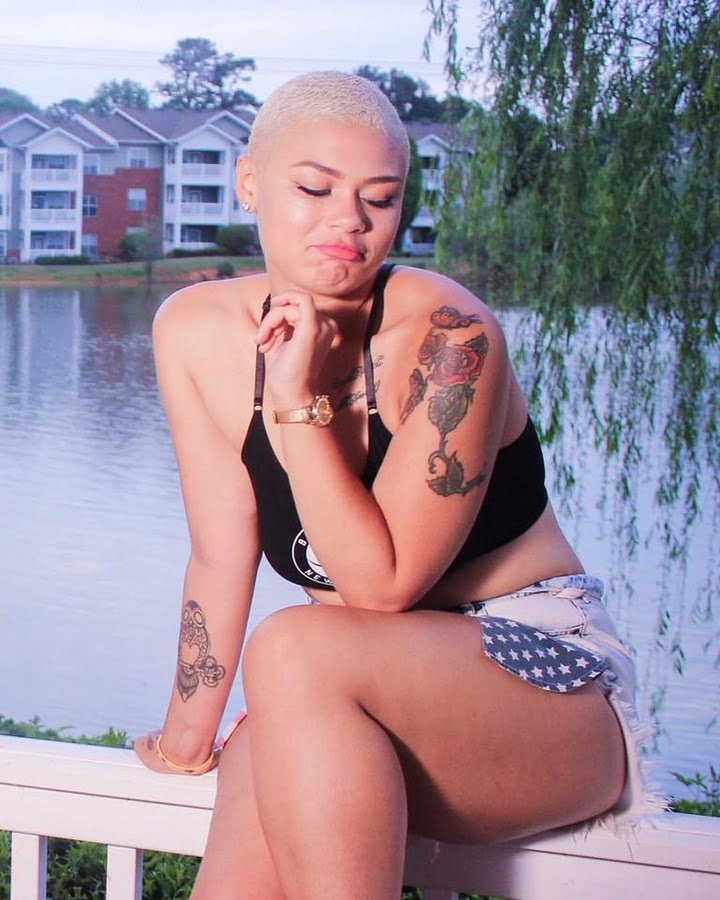 The Atlanta (CBS46) investigates has uncovered new details in the murder investigation of the young model who was found shot dead and naked in an Atlanta park.
Bridget Shiel was a model and had also become involved in Atlanta's booming s*x industry. She featured in Ghanaian hip-life artiste, Criss Waddle's "Bie Gya" music video featuring Stonebwoy before some few weeks later she was pronounced dead on 8 June 2016.
Law enforcement analyst Vincent Hill, a frequent consultant for CBS46 found Shiel's s*x ad on Backpage.com, an online marketplace for s*x with thousands of classifieds.
Shiel's ad reads " Hello Gentlemen. Nastia here. An exotic and seductive vixen with a touch of class and elegance."
CBS46 uncovered several police reports involving Shiel dating back to 2010 when she was thirteen and in middle school. Police responded to a child abuse call. A counselor reported Shiel returned to school after being assaulted by her mother. Shiel was taken from her home by a DFACS worker at that time and sent to live with her grandmother in Washington D.C.
Six years later, just a few months ago on February 13, a domestic dispute was reported by Shiel. She called 911 and said her boyfriend, 21-year-old Kevin Anthony Kinnie, had hit her in the mouth.
Two days later, another domestic dispute call was phoned into police. This time a fight broke out between Shiel and a woman living in the house with her and Kinnie. Both Shiel and the other woman were taken to jail.
People have been tight-lipped about this case, and it's far from clear whether or not Shiel's apparent work as an escort had anything to do with her horrifying death. But there is no doubt that s*x tracking puts many women at risk, especially in Atlanta.
Belinda Asiamah
However, with limited information and some doubts and speculations, it came across as possible misinformation and many were uncertain. Some even stated it could be a publicity stunt. Maybe people could not believe another model will pass away so soon right after another.
It is said to believe she had stomach ache problems which she spoke of last to her peers whilst she was in East Legon Hospital. And then later transferred to Korle Bu hospital where she died. It seems she may have died of stomach pains going by the information given.
Belinda was very active as a commercial model and engaged in lots of shoots, she made her mark when she featured in Obrafuor's Pimpinaa video featuring Bisa Kdei, which made her more famous in Ghana before she met her untimely death.
Jennifer Amegbor Smith

The late beautiful lady walked on several fashion platforms when she was alive, including the Glitz Fashion Week and Vlisco fashion show.
Members of the family of Jennifer Amegbor-Smith, a model and one of the most known faces on the runway, are yet to come to terms with circumstances that led to her death.
The body of the Ghanaian model who had been signed on by Spice Models Agency was discovered by the family on August 8, 2016, at the Police Hospital morgue, according to reports received, after she was reported missing for the past one month.
A report from the family indicated that a report of her disappearance was lodged with the police a month ago, but her family later discovered the body as part of unidentified bodies in the morgue.
The police disclosed that the deceased was said to have been knocked down by a vehicle on the Tema Motorway.
According to a report by an Accra-based radio station, Live FM, Jennifer's body was found lying on the highway by a police team that was patrolling the area.
News of her death broke on Monday evening when her parents indicated that the unidentified deceased in the morgue was the model.
Jennifer, who was known to be one of the finest models of Spice Models Agency, was last seen at Bedouin Pub at East Legon in the company of some friends before she went missing and this was very sad news to Ghanaians for losing a young uprising model.
Ama Broni

This young beautiful lady was not that known to Ghanaians but her death made many people know the person she was. Ama Broni was an uprising model who was to show her ability at the Kasoa Carnival show in which she believed that it will give her a better opportunity to grow her talent.
During the show, the event organizers placed 500 cedis for a person who can dance on the stage very well so that at the end of the competition, the winner will now take the ultimate prize. At the time she was dancing, she collapsed on the stage and after they found out she was unconscious out of the electrocution, the people around poured water on her thinking probably she might get up on her feet but to no avail.
After minutes of Ama Broni not shaking herself or breathing, the people hurriedly rushed her to the nearby hospital where she met her untimely death. A young lady known as Ama Broni met her untimely death after she twerked on stage at a carnival in Budumburam, Kasoa, Ama Broni, after twerking unclothed on stage passed away, after she was electrocuted by some wires she fell on while leaving the stage.
The young girl was rushed to the nearby hospital for treatment but was pronounced dead on the arrival at the hospital.
Suzzy Williams

Suzzy Williams was a Ghanaian actress who died in a car crash at Labadi in Accra at the age of 23. The accident happened on the La-Nungua highway on the 8th of September 2005 at about 1.30 am. She was in the car with her boyfriend. Because of her popularity, Ghana's Art Centre refused to allow her body to lie in state, fearing it would be unable to accommodate the large numbers of mourners expected.
She starred in 12 popular movies and the African most popular Hiplife song "Ahomka Womu" by V.I.P in 2004 which you can even hear a voice on the song saying your wish is my command. She was Nana Ama McBrown's best friend and one of the most beautiful female actresses that Ghana ever had.
Ebony Reigns
Ebony Reigns was killed instantly in a traffic collision on 8 February 2018 whilst returning from Sunyani to Accra after a visit to her mother. Her assistant and longtime friend Franklin Yaa Nkansah Kuri and soldier Atsu Vondee were also killed in the fatal accident. The only survivor of the fatal crash was the driver named Phinehas, who resides at Teshie. She died eight days before her 21st birthday.
The Sponsor hitmaker's final funeral rites were held at the forecourt of the statehouse, Accra, and she was buried at Osu cemetery where most of the high profile people are been lay to rest. In preparation for the funeral, the late Ebony's family received a lot of donations from prominent personalities, government, and private institutions.
Her death also brought several rumors between her manager Bullet of Ruth & Smooth fame and her family on the donations that they received, the coffin that they used to bury her because there were so many allegations circulating on social media that she belonged to occultic society.
Rest in peace to the departed souls.