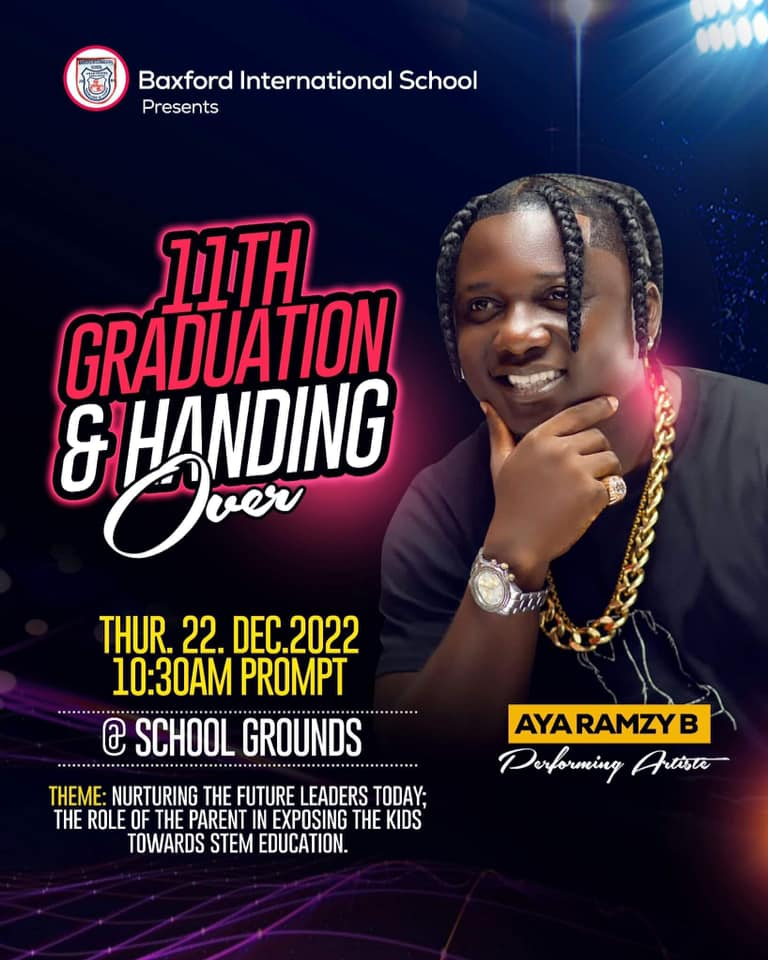 Baxford Int School is set to present Aya Ramzy B is to thrill music lovers as the school graduates its final-year students who just completed JHS and students who are now moving to Basic One in the next academic year.
This news came in after the school shared a flier of the event on their Social media handle on Facebook. The Africa Star Boy is yet to be received by the school community as they host this year's edition of their annual event.
The main event will be held on Thursday December 22, 2022 at the school quadrangle. The event will focus on a theme, which reads Nurturing the future Today: The Role of the Parent in exposing the kids towards STEAM Education.
The event will also welcome some dignitaries in and around the Ghana Education Service and selected Patrons in the Region who are concerned about nurturing talents of school children.
The 610 WMA artiste of the year, has been in the news for sometime now and we bringing him on board is to show the region that, Aya is capable of turning things around when there is boredom.
Read Also: Baxford Int. School climaxed Ghana Month in a grand style.
Aya Ramzy B per the rankings in Takoradi according to industry players has topped charts and he is now holding the bragging rights as the Artiste of the Year in the just ended Western Music Awards after he bagged 4 awards, a statement one social media user shared below the post.
Below are some of the comments some netizens shared on social media following the post:
Kingchainz Polley said, Aya is my favourite.

Sarah Hassan also said, Aya Ramzy B is a show killer. I can't wait to see him perform.

Issabella Teiko also commented, Aya is a Regional asset. Let us hold him well because he has a lot to offer Takoradi