The most recent documentary exposé undertaken by expert investigative journalist Anas Aremeyaw Anas, named "Galamsey Economy," has been critiqued by a considerable number of Ghanaian citizens, whom are convinced that the undercover work lacks substance and in-depth initiative.
Various online media users who went to the Accra International Conference Centre (AICC) to view the content of the documentary, communicated their reserved disappointment, indicating that the film's topic point did not meet their expectations, as previous documentaries tend to.
They were under the impression the film would show in-depth covert investigation concerning the galamsey brouhaha, which is tragically affecting the nation's water bodies and land vegetation, however, it didn't show anything of the like.
A twitter user going by the name BetMonster @betmonst, expressed; "But seriously we black people have problem oo.. so how comfortably people sitting with this guys that nobody knows their identity n saying they fighting corruption in Ghana and spending thousands of dollars just to make setup videos.. and we think they are genuine".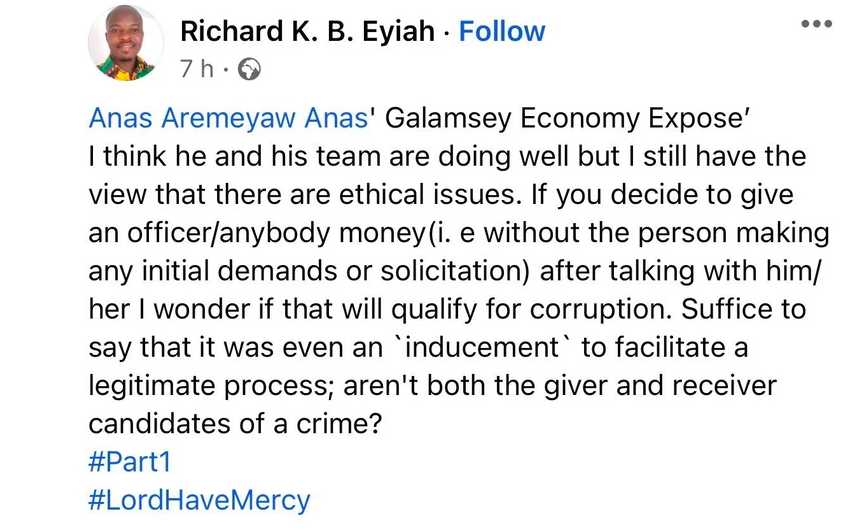 A subsequent Twitter user, Richard K.B. Eyiah, likewise expressed on his handle; "Anas Aremeyaw Anas' Galamsey Economy Expose'. I think he and his team are doing well but I still have the view that there are ethical issues.
"If you decide to give an officer/anybody money (i.e without the person making any initial demands or solicitation) after talking with him/her I wonder if that will qualify for corruption. Suffice to say that it was even an 'inducement' to facilitate a legitimate process; aren't both the giver and receiver candidates of a crime? #LordHaveMercy."
One more Twitter user whose name goes by, Ghana_MyMotherLand expressed: "We watch movie and see how undercover is done. A rot is happening journalist plant their men in the middle of the rot to catch the perpetrators. You won't see obroni creating his own scene and come and tell us that he is doing undercover. #anasgalamseyeconomy #PayToPlay"
"I thought the Galamsey Economy expose was going to feature some big wigs doing the Galamsey s33na wei aa. Anas take caption scam we," one more user likewise stated in the wake of watching the video.
In the mean time, numerous individuals have proposed that the reference of the previous Minister of State at the Finance Ministry by President Akufo-Addo to the Special Prosecutor, Mr. Kissi Agyebeng for additional query is an off-base methodology that won't be genuine in the investigation cycle.