We are our own foes, as well as the orchestrators of the fall of many potentially promising talents in the country.
As the entire nation is rooting for our young boys for displaying a commendable level of skill and strength at the World Cup competition in the last two matches, there's a matured moron plotting a baseless scheme for them to fall flat.
Evidently, Ghanaian artiste, Mr Logic, who has apparently demonstrated an irrational tendency, is envious and embittered that Kudus Mohammed is presently the most celebrated figure in the senior national team .
Kudus, whose stellar performance at the ongoing 2022 FIFA World Cup competition has received general praise, admiration, and laudation from football fans both locally and internationally, has been shockingly marked for failure by Mr Logic.
During the last match, the 22-year-old scored two times as the Black Stars secured their first victory of the competition with a 3-2 triumph over South Korea at the Education City Stadium in Al Rayyan, Qatar.
However, rather than Mr Logic complimenting and wishing him well in his future undertakings, he has childishly made a staggering declaration, hoping for the star player's demise.
Without concealing his resentment for the talented footballer, he publicly wished for his doom on his Facebook page by writing this garbage beneath…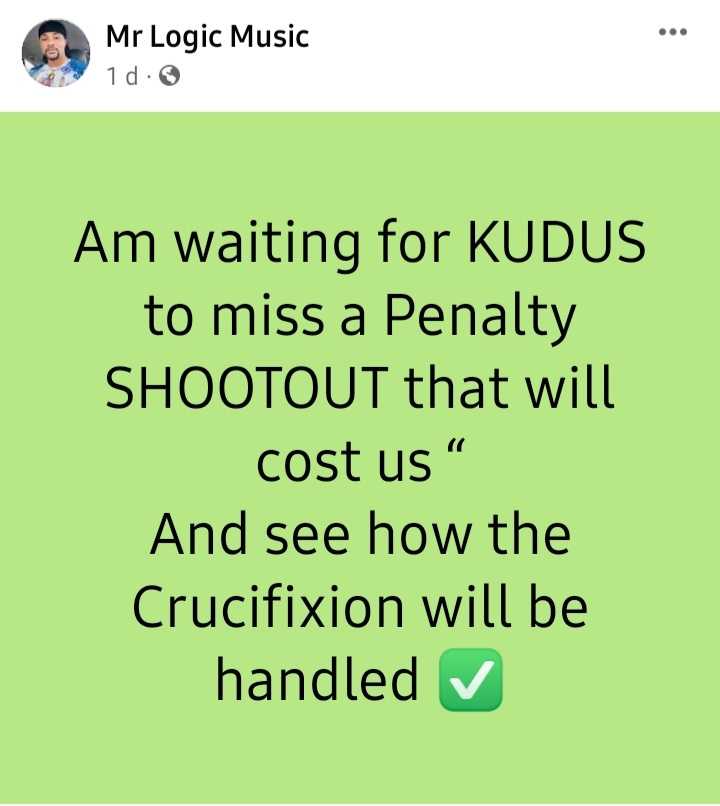 "Am waiting for KUDUS to miss a Penalty SHOOTOUT that will cost us" "And see how the Crucifixion will be handled"
Ghanaians on social media have taken over the comments section of Mr Logic's silly post, to roast him alive with loud insults, as seen below…
Dickson Afari – The fact that our mothers love us never stop them from beating us when we lost money to run an errand
Saeed Mohammed BashirHazard – How can a normal person say this??
Stephen Abu – He will not miss it !! Stop wishing bad for him. Your wish is weak
Dickson Ampadu – Mr logic, You're not being logic this time.