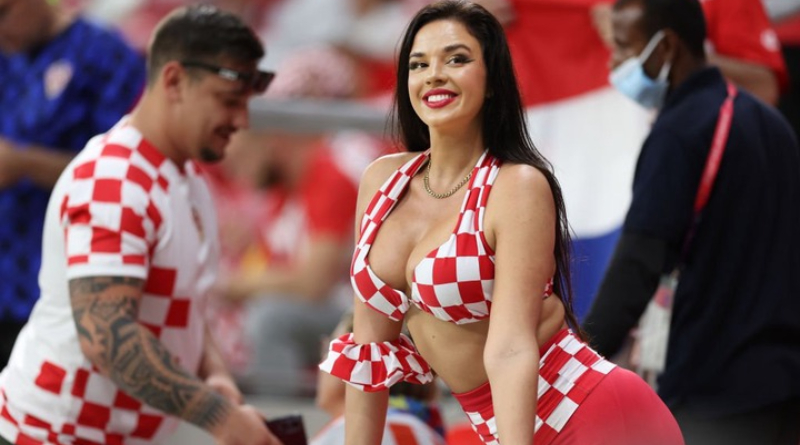 Ivana Knoll, a former Miss Croatia, has gained notoriety throughout the World Cup and has done so once more.
By dressing provocatively during the World Cup in Qatar, despite the local government's warnings to tourists to "show respect for local customs," which demands for everyone to cover their shoulders and knees, Knoll has become fairly renowned.
Knoll claims she didn't know about the limits in Qatar when she initially moved there, but she insists she hasn't run into any problems with the administration there.
"First, I was thinking if the World Cup is happening there, they for sure will allow everything to make it comfortable for all fans without any of their restrictions," she said. "Then I heard about the rules and I was shocked. In the dress code, you're forbidden from showing your shoulders, knees, belly and neck.
"I was like, 'OMG, I don't even have clothes covering that all.'"
"The locals confirmed to me that I can wear whatever I want , But I didn't know that my video in a bikini walking by the sea would be such a big deal. "The whole country is speaking about it. Everybody knows me here, and I saw that I was accepted."
Over the weekend, Knoll went viral when grinning Qatari men were caught snapping photos of her.
One Qatari local claimed that the men were snapping pics of Knoll because they disapproved of their outfit.
Just for your info they take a photo not because they like her but because they don't like the way she is miss dressed on regards to our culture

You can confirm this with any local Qatari

Probably to report it

— محمد الجفيري (@maljefairi) December 2, 2022
Of course, people called B.S. on that excuse.
😂😂😂 This is a lie. https://t.co/etlzqb4kOc

— Moses (@FutbolOracle) December 3, 2022
He looks very much like doesn't like her https://t.co/4tXtFjTekg pic.twitter.com/rgQd89LWqj

— L (@l_ghmn) December 3, 2022