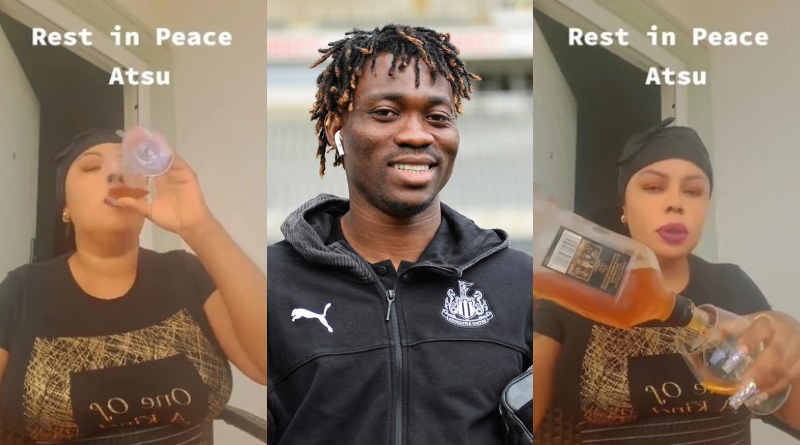 Afia Schwarzenegger seems to be hurt deeply as she sorrowfully mourns Christian Atsu's death with a bottle of whiskey.
Ghanaian social media influencer and entertainer, Afia Schwarzenegger has decided to go for whisky to ease the pain the sorrow the footballer's death has brought to many Ghanaians.
The former Chelsea and Newcastle winger was found dead in the wreckage of the building he was residing in just before the catastrophic earthquake disaster in Turkey, and his passing has been lamented by the football community.
READ ALSO: Last video of Christian Atsu before his demise
Once the Blackstars footballer was discovered dead following the earthquake that occurred over two weeks ago in Southeast Turkey, many people paid respect to him on social media.
Afia Schwarzenegger released a video of herself sobbing while sipping whiskey in support of the Hatayspor footballer. The comedian added a TikTok sound to the video she put online that read, "Anytime you want to quit drinking alcohol then someone dies."
It's unclear when Afia started drinking to mourn Atsu but the whiskey has gone pass half in the bottle.
Captioning the post below, she wrote "I'm pretty sure you are dancing with angels.. People like you don't die,they transit to where they came from(heaven) Rest in Heaven Christian Atsu(Angel of kindness) Never met you, but I admired your heart from a distance. And as a mother of twins… I feel so sad for your sister. Damrifa Due".
Source: Ghnewslive.com